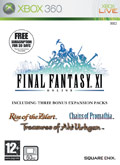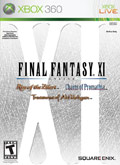 TITLE Final Fantasy XI
GENRE MMORPG
PLATFORM XBOX360
DEVELOPER Square Enix
US PUBLISHER Square Enix
UK PUBLISHER Square Enix
NORDIC PUBLISHER Square Enix
ONLINE PLAY Yes
Media Screenshots:
SCREENS ADDED: 15 Sep-2005
SCREENS ADDED: 10 Aug-2005

Official Fact Sheet:
Explore the living online world of Vana'diel in FINAL FANTASY? XI. The Rise of the Zilart? and Chains of Promathia expansion packs provide fifteen unique jobs and hundreds of areas. Frequent updates and events add to the award-winning visuals, innovative gameplay, and deep story line of the world-renowned FINAL FANTASY series.
Online RPG: First massively multiplayer online roleplaying game (MMORPG) in the renowned FINAL FANTASY series.
Cross-platform title: First MMORPG that lets gamers connect to the same gaming world, regardless of platform.
Varied quests: From one of three starting nations, players can undertake conquests to elevate their nation's standing, missions to build their reputation within a nation, and quests to discover useful items, earn money, uncover valuable information, and learn more about the story of Vana'diel.
Custom characters: Personalize your character with a host of physical traits and jobs. Gain the ability to equip and switch support jobs at any time.
Special quests: Participate in missions to unlock exciting new jobs such as "Dark Knight," "Summoner," and "Ninja."
Intuitive battle system: Experience a complex yet well-balanced battle system fit for beginners and experienced gamers alike. Perform strategic attacks using magic, job abilities, and weapon skills.
Huge world: More than 100 areas to explore including mountains, forests, ice plains, deserts, oceans, rivers, castles, and dungeons.
Changing time, climate, and weather: Live in a persistent world with time and climate changes that range from full day/night cycles to desert sandstorms, thunderstorms, fog, and snow.
Helpful features: Players will be able to play at their own pace and form parties by using various integrated communication tools, including PlayOnline Chat and PlayOnline Mail.
Gorgeous, complex saga: Experience the same visual style and deep story lines that have become a staple of the FINAL FANTASY series.
PlayOnline Viewer software: With communication tools, access to support, customization tools, and games, including the enhanced online version of the Tetra Master card game from FINAL FANTASY? IX.
Rise of the Zilart expansion pack: Explore new areas and features.