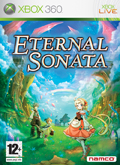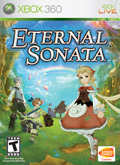 TITLE Eternal Sonata
GENRE RPG
PLATFORM XBOX360
DEVELOPER Namco Bandai
US PUBLISHER Namco Bandai
UK PUBLISHER Namco Bandai
NORDIC PUBLISHER Namco Bandai
ONLINE PLAY No
Media Screenshots:
SCREENS ADDED: 01 Aug-2007
SCREENS ADDED: 17 Jul-2007
Videos:
Official Fact Sheet:
On his deathbed, Chopin, the famous composer, drifts between this life and the next. In his dreams, happenstance encounters with a young girl facing a terrible destiny and the boy who will fight to save her, leads to Chopin?s discovery of the light that shines in each of us in this enduring tale of good and evil, love and betrayal.
With gorgeous next gen visuals and style, a unique battle system, and a captivating story, Eternal Sonata promises to give Xbox 360 fans the RPG they?ve been waiting for.
Custom-Made for Next-Gen: Enjoy amazing, high-definition, anime style cel-shading and high quality textures shine to truly deliver an awesome next gen experience.
Innovative Battle System: Battle using a unique hybrid turn based/action RPG system that combines free-roam and turn-based action (up to three players during battle).
Strategic Use of Light and Darkness: Adjust your battle strategy in the ongoing struggle between light and darkness. Beware of enemies lurking in the shadows, as their stats ? attacks and potency ? will change, as will their physical form. Lure them out into the light or destroy them there in the cloak of darkness. Also, change your special attacks depending on whether you are in the light?.or in the dark.
Dramatic and Evolving Storyline: Experience a deeply moving story focusing on the enduring struggle between good and evil all while taking place in a dream during the final 3 hours of world-famous music composer Frederic Chopin?s life.
Mesmerizing Music: Listen as world-renowned pianist Stanislav Bunin performs Chopin?s original compositions, which are a key element in the environment and story of Eternal Sonata.