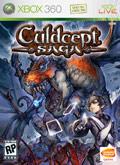 TITLE Culdcept Saga
GENRE Strategy
PLATFORM XBOX360
DEVELOPER Omiyasoft
US PUBLISHER Namco Bandai
UK PUBLISHER N/A
NORDIC PUBLISHER N/A
ONLINE PLAY Yes
Media Screenshots:
SCREENS ADDED: 18 Jun-2007
SCREENS ADDED: 13 Apr-2007
Videos:
Official Fact Sheet:
The merging of board game and trading card game brings a unique and engrossing gameplay experience to the Xbox 360 in Culdcept Saga.
Join the journey of two friends who battle together to fight enemies and bring peace back to their country. Your objective is to collect skills, the currency of choice in the Culdcept world, conquering land as you defeat other players. The collection of cards in your book is your weapon. How you use them depends on your objective ? your game, it?s your choice.
Unlimited number of strategic combinations: From over 470 cards, you
choose those that will become your ?book.? ? The strategies you can employ are endless ? there is no ?ultimate? card, the impact of the move depends on the combination of cards used!
Developed for the X360: Developed for the next generation platform, Culdcept Saga delivers realistic characters and environments. Monsters emerge to life from the cards as they are placed on the map.
Play alone, play with friends: The single player mode allows you to build your card collection, testing out a variety of strategies on how to combine them for maximum points. The multiplayer mode against 3 other players on Xbox Live gives you the opportunity to battle out your extensive card collection against theirs, complete with voice chat!
Create your own look: As you clear various modes and purchase parts on Xbox Live Marketplace, you can adjust your character?s look. From a man to a woman, or to become a lizard man instead of human? it?s your character, you choose the look.
Japan?s creative All Star team: By bringing in Japan?s top creative talents, the team brings the game to another level with rich detailed illustrations and card design, beautiful musical scoring and a captivating storyline.