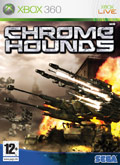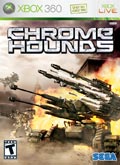 TITLE ChromeHounds
GENRE Action
PLATFORM XBOX360
DEVELOPER From Software
US PUBLISHER SEGA of America
UK PUBLISHER SEGA Europe
NORDIC PUBLISHER SEGA Europe
ONLINE PLAY Yes
Media Screenshots:
SCREENS ADDED: 22 May-2006
SCREENS ADDED: 11 May-2006
Official Fact Sheet:
CHROMEHOUNDS offers an intense, photo realistic look at war from the cockpits of colossal metal vehicles. These heavily-armed weapons of war, called HOUNDS, dominate ground battles during warfare in the near-future. Squads of HOUNDs take to the field in international factions; cooperating with and complementing each other in terms of firepower, range of movement, and abilities. Domination of the world is the prize for the mightiest army on the field. Strategic planning, snap reflexes and communication are key to winning the day in this battle-hardened action title. Players will take the role of either a Squad Member or a Tactics Commander, who is responsible for strategically guiding the team to victory with verbal commands on Xbox Live.
Photo realistic visuals bring the game's gritty, war-torn environments to life.
Strategic gameplay puts the player in the role of 'tactics commander'; manage your squad while testing your reflexes on the battlefield.
Xbox LIVE support offers cooperative and competitive campaigns for up to 12 players at once.
Full customisation options present users with thousands of different ways to equip and personalize their mechs