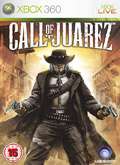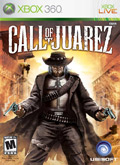 TITLE Call of Juarez
GENRE FPS
PLATFORM XBOX360
DEVELOPER Techland
US PUBLISHER Ubisoft
UK PUBLISHER Ubisoft
NORDIC PUBLISHER Ubisoft
ONLINE PLAY Yes
Media Screenshots:
SCREENS ADDED: 16 Apr-2007
Videos:
Official Fact Sheet:
Call of Juarez takes place in the Wild West and it features classic gun slinging action including duels, shootouts and barroom brawls as well as a dual gameplay: players enter the world of two opposing characters equipped with contrasting weapons and styles.
Billy is on the run, prime suspect in the murder of his own parents. Whilst Reverend Ray is the man who?s hunting him down. Players will discover 2 radically different styles of gameplay depending on which character they play as hunter or pursued.
2 Gameplay styles Play as Billy, using discretion to escape the men who seek you. In case of difficulty, use your whip to hit, knock out and disarm adversaries, or simply climb surfaces or grab objects out of reach. Play as Ray and let brute force do the talking – an excellent horseback rider, Ray is also a master of pistol and rifle, and can carry heavy objects to smash down the doors that stand in his way.
Multiplayer 18 maps, 5 multiplayer modes and 4 playable character classes. Take part in a thrilling multiplayer experience that includes showdowns in the middle of the town and bank robberies!
New single-player modes (Exclusive Xbox 360) 3 new levels playing as Billy ? no sneaking and hiding, but in full gunslinger mode!
Graphical and technical boost: (Exclusive Xbox 360) HDR textures, more realistic lighting on vegetation, better FX rendering and solid frame rate (40 FPS VS 20 FPS on PC).
Enhanced AI (Exclusive Xbox 360) A refined AI provides a realistic gameplay experience, with more reactive NPCs. Players encounter enemies with individual skills, who use their environments to their advantage, employ suppressive fire and work together as a group to shoot them down.
Re-Designed Billy levels (Exclusive Xbox 360) Make them more action-driven and rewarding (considered as too slow paced in the PC version).
Proprietary Engine (Exclusive Xbox 360) Developed from the ground up for the next-gen console, this allows organic game design featuring open gameplay, intuitive control scheme, realistic interaction with environment, and a fluid, yet sharp, combat mechanic.
New music tracks (Exclusive Xbox 360) Further adding to the distinct flavor and atmosphere of the Wild West and spaghetti western are 20 new music tracks.