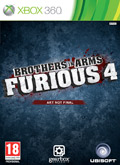 TITLE Brothers in Arms Furious 4
GENRE FPS
PLATFORM XBOX360
DEVELOPER Gearbox Software
US PUBLISHER Ubisoft
UK PUBLISHER Ubisoft
NORDIC PUBLISHER Ubisoft
ONLINE PLAY Yes
Videos:
Official Fact Sheet:
Brothers in Arms Furious 4 is a brutal first person shooter offering a refreshing World War II experience with a campaign mode playable up to 4 players in co-op, as well as an extensive competitive multiplayer mode.
The story follows four fierce and fearless soldiers chasing the F?rher himself in the deadliest war ever known. As one of the Furious 4, players battle using special weaponry and unexpected combat abilities, against the greatest threat the world has ever faced: the Nazi uber-weaponry, result of the numerous years of experimentations of the Third Reich.
It's 1944 and the Nazis are desperate to turn the tide of battle. Our story follows a team of four heroes, whose mission is to shut down the Nazi war machine before the F?rher can steal victory from the jaws of defeat.
Enjoy a campaign fully playable in co-op, up to 4 players.
Choose between 4 distinct playable characters, with different combat styles, special melee weapons and unique abilities.
Fight an experimental Nazi army and face the weapons that could turn the tide against the Allies.
A brutally fun competitive offer, with 6 different multiplayer modes, for up to 10 players, developed by the creators of Borderlands .
Choose your fighting style, use unexpected melee weapons and special abilities, and increase the power of your characters' arsenal and abilities by unlocking new challenges, ranks, and other awards.
Live a new and epic experience and discover the untold story of WW2!