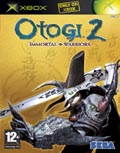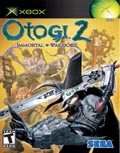 TITLE Otogi 2: Immortal Warriors
GENRE Action
PLATFORM XBOX
DEVELOPER From Software
US PUBLISHER SEGA of America
UK PUBLISHER SEGA Europe
NORDIC PUBLISHER SEGA Europe
ONLINE PLAY No
Media Screenshots:
SCREENS ADDED: 10 Sep-2004
SCREENS ADDED: 12 May-2004
Official Fact Sheet:
Otogi 2 takes place directly after the events chronicled in the original Otogi? – Myth of Demons. Like its predecessor, Otogi 2 is set in Japan and steeped in real-life folklore and mysticism. Raikoh, the famed undead warrior, managed to temporarily save the Japanese population from an onslaught of demons, but had not been able to vanquish them all before returning to his grave. The demons have now regrouped from hiding places within the sacred capital of Japan, and they are ready to attempt to take dominion over man once more. In response, five brave warriors ritualistically take their own lives to resurrect Raikoh. By fulfilling the ritual, Raikoh rises again and the five selfless warriors rise with him, all set to take on the encroaching demon spawn as a team.
Progression through the game is based on the player?s actions, allowing for several different endings. The Otogi 2 storyline is deeply rooted in Eastern philosophy and offers a new cast of six playable characters, each with their own unique abilities, including Raikoh, the warrior from the first game. Otogi 2 also ups the aesthetic ante considerably – the game runs on an entirely new engine, offering vastly improved graphics and more realistic physics. As a result, Otogi 2 is a technical marvel primed to make Raikoh a true mass-market action hero.
Raikoh, the undead warrior, returns but is now joined by five additional warriors, each with their own unique strengths and weaknesses, allowing players to strategically select characters for each stage.
Characters become more powerful as the player acquires items to increase their strength and abilities.
?Story mode? and an all new ?Havoc mode? focus on pure destruction.
Upgraded graphics create highly unique shading, atmosphere and special effects.
<!-comments-button-->