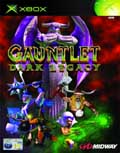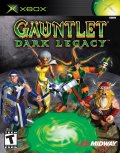 TITLE Gauntlet: Dark Legacy
GENRE Action
PLATFORM XBOX
DEVELOPER NetherRealm
US PUBLISHER Midway
UK PUBLISHER Midway
NORDIC PUBLISHER Midway
ONLINE PLAY No
Media Screenshots:
SCREENS ADDED: 01 Dec-2005
Official Fact Sheet:
Whether playing alone or with companions, players adventure through eight magical realms ? Mountain, Desert, Forest and Castle and the new Ice, Town, Sky and Dream worlds. Throughout each mystical realm, players are challenged to find obelisks, rune stones and countless other items while confronting more than 50 different enemies and challenging bosses. Players can choose from a variety of characters ? including the new Jester, Sorceress, Dwarf and Knight ? who possess the ability to perform special turbo attacks and deadly combination moves during battle. Each character has different attributes, so players must decide which character they believe is best equipped to handle the next adventure. Players can also find more than 42 secret characters and unlock their hidden, split personalities.
One to four players Cooperative Action ? Alone or with up to three friends, gamers embark on a quest to collect the mythic 13 rune stones and battle the evil wizard, Garm
Updated Inventory System: Gamers can turn pick-ups and power-ups on and off while playing
Enhanced Shop Screen: Sell unwanted/unused pick-ups and power-ups for gold and jewels
Numerous New Power-ups such as:
Health Amulet: Players gain health from damaging enemies
Mikey: A potion that causes enemies to attack a magical apparition rather than the player?s character
Hand of Death: Allows players to suck the life from enemies
Numerous Characters: Eight Different Playable Characters: Warrior, Valkyrie, Archer, Wizard, Jester, Sorceress, Dwarf and Knight
Secret Characters: More than 42 secret characters with eight different split personalities to unlock
Massive Gameplay Worlds: Mountain, Desert, Forest and Castle plus Ice, Town, Sky and Dream. Venture where only legends dare with more than 50 evil enemies, challenging evil bosses and countless potions, power-ups and secrets to uncover
Advanced Combat: Each of the eight different characters pack unique combo moves and turbo attacks
Enhanced Xbox Graphics and Sound: Masterfully crafted worlds, powered by the Xbox graphics engine
<!-comments-button-->