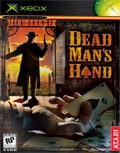 TITLE Dead Man's Hand
GENRE FPS
PLATFORM XBOX
DEVELOPER Human Head Studios
US PUBLISHER Atari
UK PUBLISHER Namco Bandai Partners (Atari)
NORDIC PUBLISHER Namco Bandai Partners (Atari)
ONLINE PLAY Yes
Media Screenshots:
SCREENS ADDED: 04 Nov-2003
SCREENS ADDED: 11 Sep-2003
Official Fact Sheet:
Dead Man's Hand will be an amazing recreation of the Old West, from the high drama of showdowns to the window-smashing action of shoot outs to the bitter plights of vengeance. Using the power of the Xbox and Unreal Technology together, Human Head is creating one of the best looking, best playing and truly unique first person shooters ever released. Xbox owners are in for a real treat, both in single player and against online foes through Xbox Live!"
In "Dead Man's Hand," players will step into the boots of El Tejon, a master gunslinger riding with one of the roughest gangs in the West, known as The Nine. When the ruthless leader of The Nine betrays El Tejon, El Tejon turns to a life of vengeance, vowing to put every member of his former gang six feet under.
Through an epic single player story of vengeance and betrayal, the player will travel the American Frontier, experiencing bar fights, shoot outs, stagecoach chases and other definitively Western scenes. "Dead Man's Hand" captures the grandeur, action and drama of the Old West with six-shooters, rifles, black hats, horses, hombres, dancing girls, riverboats, saloon poker and many other iconic images.
Besides straight shooting, "Dead Man's Hand" incorporates unique gameplay elements taken from the Old West. Gamers will try their hands at blasting desperados from the back of their trusty steed and shooting it out on a moving train, ducking just before going through tunnels. In addition, as the game progresses, players will acquire "Legend," a unique scoring system that awards points as the player blazes a path into Western folklore. When accumulated, Legend will allow gamers to pull off amazing trick shots and death-defying feats. Players will also be able to pick their own path through the game, revealing new mission choices as the game progresses.
Saloon poker also plays a major role in "Dead Man's Hand." Players will sit down for a poker game before each mission as a bonus round. If successful, the player will earn bonuses such as additional Legend, health or ammo. The player then decides whether to gamble their initial earnings for bigger bonuses. However, they could lose all of their bonuses in the process.
More than 20 adventures will challenge gamers, through the deserts, hills and towns of the old Southwest, across the mountains and mine shafts of the great Northwest, and in the riverboats and cities of the Midwest. Missions will take place upon vast maps that feature detailed indoor and outdoor locations, from rickety old saloons to sprawling mountain vistas to dark mysterious mineshafts.
Players will have nine different Old West firearms to choose from, each modeled on the real pistols, shotguns and rifles that made the Old West famous. Other weapons include knives and dynamite, as well as fixed Gatling guns and cannons that will blow enemies clear into the next county.
Players will be able to compete against other Xbox owners via Xbox Live! as well as against friends in their living room in split screen multi-player mode. A variety of competitive and cooperative play modes will be available.
<!-comments-button-->