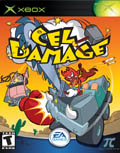 TITLE Cel Damage
GENRE Action
PLATFORM XBOX
DEVELOPER Pseudo Interactive
US PUBLISHER Electronic Arts
UK PUBLISHER Electronic Arts
NORDIC PUBLISHER Electronic Arts
ONLINE PLAY No
Media Screenshots:
SCREENS ADDED: 15 Mar-2005
Official Fact Sheet:
Enter a universe where the toons rule the road in Cel Damage. This frantic vehicular combat title reaches into the violent and wacky world of cartoon physics to present vehicular combat with a fun new twist.
Players will take command of any of the six main characters, each with their own unique machine of cartoon destruction, and enter battle in over 10 levels based on four different cartoon themes. Thirty six different weapon power-ups will make sure the action never gets stale, while "guest stars" and their unlockable cars raise the number of playable characters to 10.
The battles take place in a world controlled by toons, ranging in style from Fowl Mouth, an old black-and-white cartoon duck from the 30s, to an anime-style manga girl named Skully and a rude, crude, gross-out toon named Sinder. Since the toons dont really die, players will be able to score multiple "kills" with power-ups such as the Axe (a giant axe attached to the front of the car) and the Shrink Ray (which drops the target to 25% of its original size). Each theme features multiple gags and triggered traps, such as giant Venus flytraps in the jungle and UFO attacks in space.
Gameplay modes include a classic deathmatch and a capture-the-flags scenario in which the flags themselves actively try to avoid capture. A battle race event is also available. Each themed area will feature a "guest star," whose car becomes playable once the player defeats him. Cel Damage features guest stars ranging from Transylvanias Count Dracula to the Deserts Whack Angus.
Cel Damage sports a frantic, cel-shaded cartoon look, using a state-of-the-art cartoon physics engine to model "realistic" effects and interactive environments. Players will interact with triggered gags, perform stunts, and, of course, pummel their opponents into slag. Car models will distort in real time, reacting to damage by actually altering the mesh of their framework.
Frantic vehicular combat in a cartoon universe.
Over 10 levels of outrageous action set in four different themes.
Three gameplay modes: Smack Attack, Battle Race and Flag Rally.
A total of 10 playable characters, including 4 unlockable guest stars – one guest star for each theme.
Thirty six wild weapons, including giant axes, portable holes, shrink rays, mallets, machine guns and more.
Stylish and fast cel-shading and cartoon-physics engine gives the look and feel of playing an animated episode.
Characters animation styles reflect their backgrounds; a film noir duck from the 30s is in black-and-white, while a perky, mayhem loving "tank girl" is drawn anime-style.
<!-comments-button-->