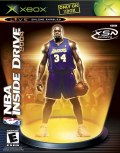 TITLE NBA Inside Drive 2004
GENRE Sport
PLATFORM XBOX
DEVELOPER High Voltage Software
US PUBLISHER Microsoft
UK PUBLISHER Microsoft
NORDIC PUBLISHER Microsoft
ONLINE PLAY Yes
Media Screenshots:
SCREENS ADDED: 03 Jul-2003
Official Fact Sheet:
The ?Big Aristotle? is lending his name and likeness to ?NBA Inside Drive 2004,? and it will be ?Shaq-tacular.? NBA superstar Shaquille O?Neal will grace the cover of ?NBA Inside Drive 2004,? Microsoft Game Studios? exclusive Xbox basketball title and a featured game in the XSN Sports brand. ?NBA Inside Drive,? with its fluid gameplay and lifelike player models decked out in tattoos and cornrows, is taking its game online with the help of Xbox Live. Utilizing revolutionary new Web-based technology exclusive to XSN Sports titles, basketball gamers and sports fans can easily organize teams, leagues and schedules from a centralized Web site, XSNsports.com, that pulls the information from Xbox Live. New ?jukes? and post moves will be ?breaking ankles? all over the court, and a revamped defensive game will be shutting down high-scoring teams and making them run home to their mamas. With thumpin? hip-hop beats, online play and innovative commentary, ?NBA Inside Drive 2004? puts the ?rock? into the hands of the gamer for the best on-court and online competition.
XSN Sports. XSN Sports is the first lineup of Xbox games where sports fans compete beyond the game. For the first time ever, gamers can challenge real people, create their own leagues and build their own rivalries.
XSNsports.com. XSNsports.com is the Web-based service that links a gamer?s Xbox console, Xbox Live, PC and cell phone together for the first time ever. ?NBA Inside Drive 2004? fans will now be able to organize their own teams, leagues and schedules from a centralized Web site, and Xbox Live will automatically broadcast up-to-date scores, standings, statistics and trade proposals to any Web-based device.
Xbox Live. ?NBA Inside Drive 2004? will debut a new online basketball universe for the true hoops fan. ?NBA Inside Drive 2004? will provide head-to-head play, roster updates and player ratings updates. Multiple leader boards will let gamers with different levels of experience compete online, and a new ranking system will give players more ways to track their dominance.
Shaq joins the team. Three-time NBA champ Shaquille O?Neal joins the ?Inside Drive? family as cover athlete and spokesperson
Power Post Play. It?s time for the big guys to get the respect they deserve. The all-star center is the inspiration for the new Power Post Play feature, which includes a series of new low-post moves that will enable gamers to dominate the post just like Shaq.
Offensive gameplay. ?NBA Inside Drive 2004? will offer hoopsters more responsive ?juke? controls for jaw-dropping one-on-one isolation moves. For gamers who prefer more of a team effort, ?NBA Inside Drive 2004? features an improved passing scheme to let them control the pace of the game and create their own ?give and gos.?
Defensive adjustments. The defense will be bolstered by revolutionary defensive controls that deliver a new level of intensity to stealing and blocking and allow gamers to play their own style of hoops.
The announcers. Kenny Smith, Kevin Calabro and Marques Johnson return to call all the exciting NBA action and will provide their unique mix of catchphrases and insightful commentary.
The vision. ?NBA Inside Drive 2004? debuts the all-new Drive Cam, a camera angle that brings the player closer to the action.
The dynasty. Gamers can play up to 25 NBA seasons with full GM capabilities, including the ability to make unbalanced trades, conduct a rookie draft and trade draft picks to build the ultimate NBA team.
The players. ?NBA Inside Drive?s? already lifelike player models now have characteristics that are even more realistic, including headbands, tattoos and hairstyles.
?The sound. Experience the sounds of the NBA game from sneaker squeaking to arena noise with Dolby 5.1 Surround Sound.
<!-comments-button-->