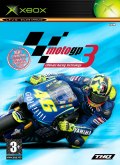 TITLE MotoGP 3: Ultimate Racing Technology
GENRE Racing
PLATFORM XBOX
DEVELOPER Black Rock Studio
US PUBLISHER THQ
UK PUBLISHER THQ
NORDIC PUBLISHER THQ
ONLINE PLAY Yes
Media Screenshots:
SCREENS ADDED: 23 May-2005
SCREENS ADDED: 18 May-2005
Videos:
Official Fact Sheet:
The most significant addition to MotoGP 3 is a brand new Extreme mode that extends the playing experience even further for gamers. Reflecting the current passion for TT-style street racing, this exciting game mode consists of sixteen new city and suburban tracks. Based on actual race locations from around the world, such as the neon-lit streets of Japan and the country roads around Donington UK, these thrilling new tracks offer a unique, demanding and adrenaline-charged challenge that race fans will love. As well as the new tracks, gamers also have a richer choice of bikes thanks to the addition of sixteen original motorcycles. Modelled on real world bikes, these exclusive two-wheelers range in power from 600cc racers to 1200cc superbikes.
Just as MotoGP 3's vast number of bikes and tracks offer individual players unrivalled depth, a range of exclusive online features guarantee multiplayer fans a treat too. In keeping with both companies' commitment to developing innovative games, THQ and Climax have collaborated to realise the full potential of Xbox Live! Going beyond anything previously seen, MotoGP 3 boasts three brand new features ? Embedded online gameplay, Spectator mode and Commentator mode ? that keep it way ahead of the competition. These online features will also be included in the PC version of the game.
MotoGP 3's embedded online gameplay is an Xbox first and a feature that will have a resounding impact on the way gamers play. Blurring the lines between the single-player and multiplayer modes, this unique feature takes Live! functionality to the next level by allowing players to slip seamlessly from the single-player game to online action. Once connected to Live!, players can progress through their single-player career as normal, but can choose to play each event online should they wish. This seamless transition from single-player to multiplayer makes online gaming an easier and more fulfilling proposition.
The embedded gameplay developed by Climax makes it easier for gamers to get online courtesy of a unique seeding system. This seeding system encourages players to race against opponents of similar or slightly greater skill level while discouraging experienced riders from racing against novices.
As the name suggests, Spectator mode allows players to watch while others are racing. So, rather than patiently waiting in the lobby for others to finish, players can now jump straight into the game and watch races unfold. As well as allowing players to enjoy the sheer thrill of watching a highly-charged race, this unique feature also offers gamers an invaluable opportunity to learn from their competitors.
Another original revolutionary option developed exclusively for MotoGP 3 is the Commentator mode. With this, the host of Live! games can assign a spectating player to commentate on the race action. This hugely innovative feature places players closer to the action and is sure to provide endless entertainment as gamers try their hand at matching the vocal eloquence of the BBC's Suzi Perry!
The end result of all these exclusive features is the most technologically advanced racing game ever, as Climax's CEO, Karl Jeffery, explained. "The inclusion of the new Extreme mode and exclusive online features is true to our commitment to continually innovate. We wanted to push back the boundaries of the XBOX Live! technology and with the spectator, commentator and embedded online gameplay options, I believe we've done just that. Combined with the Extreme mode, these features make MotoGP 3 the most complete racing experience ever!"
<!-comments-button-->