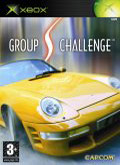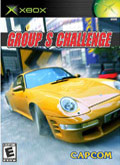 TITLE Group S Challenge
GENRE Racing
PLATFORM XBOX
DEVELOPER Capcom
US PUBLISHER Capcom
UK PUBLISHER Capcom
NORDIC PUBLISHER Capcom
ONLINE PLAY No
Media Screenshots:
SCREENS ADDED: 13 May-2003
SCREENS ADDED: 17 Feb-2003
Official Fact Sheet:
Starting with an empty garage and a small number of credits, Circuit Mode is where drivers can enter a series of sub-modes ? Championship, Line-Line and Duel – that offer the opportunity of buying new cars, parts and upgrades with the prize money gained from racing, or simply the chance of winning cars outright.
The aim in Championship Mode is to progress from driving C-class cars such as the Opel Astra or VW Golf through B-class and A-class up to the supercharged S-class where players can race the likes of the TVR Tuscan and Dodge Viper, with players adding more cars to their garage on the way. The higher the finishing position, the more credits awarded and the quicker players can add a turbo kit or stiffen suspension to improve performance, thereby gaining faster times and greater prizes.
Line-Line tests the player?s ability to stick to the perfect driving line indicated by a series of markers. At the end of the lap credits will be awarded based on the time taken to complete the course and the number of markers collected.
The final element to Circuit Mode is Duel where drivers attempt to win a series of cars that cannot be obtained in any other mode. These cars are fully kitted out by some of Japan?s leading tune-shops and will be a serious addition to a player?s garage.
Group S Challenge?s Arcade Mode offers players a selection of cars from all classes to compete in straight forward single player races, time attack challenges and two-player head to head battles. This mode also features One Make where all the cars taking part will be of the same make and model, providing a true test of driving skill as no one machine will have any advantage over its competitors.
Superbly detailed cars ? Get behind the wheel of over 80 cars from over 20 manufacturers including Honda, Toyota, Lotus, Alfa Romeo and Chevrolet
Real world tracks ? Test your skills on circuits such as Monaco and Surfer?s Paradise
Realistic handling ? Each car has individual handling characteristics just like its real life counterpart
Different gameplay modes ? Choose from Arcade, or Circuit with its multiple sub-modes
Upgrades ? Earn cash to improve your car?s performance with an engine tune or a new set of wheels to compete at the highest level
<!-comments-button-->