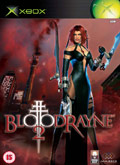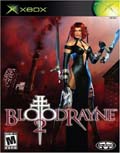 TITLE BloodRayne 2
GENRE Action
PLATFORM XBOX
DEVELOPER Terminal Reality
US PUBLISHER Majesco Entertainment
UK PUBLISHER Majesco Entertainment
NORDIC PUBLISHER Majesco Entertainment
ONLINE PLAY No
Media Screenshots:
SCREENS ADDED: 04 Feb-2004
Official Fact Sheet:
BloodRayne is a dhampir, born from the unnatural union of vampire and human. Blessed with the powers of a vampire but cursed with the unquenchable thirst for blood and a weakness to sunlight, Rayne is challenged with her most personal battle yet in BloodRayne 2.
When we last saw BloodRayne in 1935, she joined forces with the shadowy Brimstone Society to destroy a supernatural Nazi bid for dominance. Her father, Kagan, an influential Nazi collaborator, was killed in an accident at the close of the War. Cheated of killing Kagan herself, Rayne has spent the last sixty years ferreting out and destroying his many offspring, her siblings. They have banded together and formed the Cult of Kagan, pledging to carry on his legacy of creating a new era of vampire supremacy where humans are mere cattle for the bloodthirsty predators that hunt them. BloodRayne?s nefarious siblings have created ?The Shroud,? a mysterious substance which, when released, renders the sun?s lethal rays harmless to vampires and twists nature into a nightmarish perversion. Now only BloodRayne stands between an unsuspecting humanity and a horrifying vampire dawn.
Acrobatic combat on horizontal and vertical poles
Advanced melee combat for deeper, more precise fighting. Access earned combos from a drop down menu on the Pause screen. Perform the exact combo you want, when you want to do it.
Rail sliding ability offers new variations for mobile blade and gun combat
Fatality finishing moves let you end feeding sequences with a flair
Motion-captured movements and new soft body physics system for more dynamic fighting and kills
New powers gained from feeding on sibling bosses include Blood Storm and Enhanced Blood Rage
All new environments set within a modern day city
Revamped aura vision serves more integral role in game play
Costume changes!
<!-comments-button-->